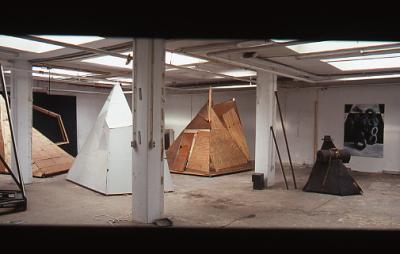 Even overleggen?
Heb je een vraag of wil je vrijblijvend advies?
kunstenaar:

techniek:

oplage:

1

beschikbaarheid:

geen uitleen of verkoop
a self-organized exhibition at a temporary atelier on keizersgracht 132, amsterdam. the exhibition title was 'start of your ending' (see flyer). i made an interactive site specific installation, consisting of a number of 'play mountains' (dimensions variable), two wooden spielberg's that were on wheels and could be moved about the space, one light box spielberg made of white plastic glass that would go on soon as it became dark in the space, one spielberg made of wood covered with felt and on top a felt hat (beuys berg), also on wheels and suitable for sitting on. a wooden frame in the shape of a spielberg hung on a black board surface and a steal construction carousel spielberg. also present were a series of paintings. the idea was to create an absurd sort of playground and suggest a creative process of large stature and artistic freedom. all the sculptures/objects were made of materials that were found at the site.