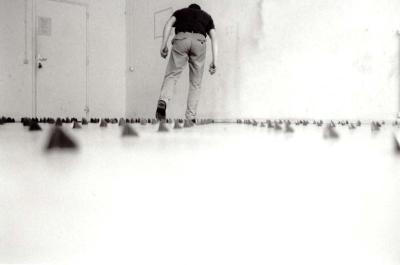 Even overleggen?
Heb je een vraag of wil je vrijblijvend advies?
kunstenaar:

techniek:

grootte (b x h):

1 cm x 1 cm

oplage:

1

beschikbaarheid:

in opdracht

verkoopprijs:

€ 1000
Claim Your Space 1. 300 metal points, 3 different sizes, exposition space, and installation. The total floor is covered with metal points, these points works visually together because they are set in an order, a rhythm. All objects together act as one object. More importantly, walking through that space is not free of obligations. The metal points are not fixed on the floor. Walking without concentration is dangerous, You may touch and destroy the rhythm, and derby the 'art-piece'. I want to influence behaviour but not that obvious, here You have to look and think. Make a new environment and be a behavioural biologist. Observe the spectator. Normally a floor, from a gallery or museum, is free for movement, so people can walk in and look at the walls and art pieces on the floor. The rest is free space, people walk in and they walk out, and nothing will remain. Nothing will remember that they were there, there are no marks. This art piece will change that view and free feeling. It is about knocking over, disturbing the order, putting back in order, fear of disturbing "art", fear of disturbing the prescribed order. But if the order is destroyed, it is irreversible. Will people make that move? Will they wipe out their marks?
Dit werk reserveren, kopen of huren?