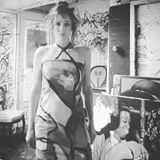 Nadine hails from a small town in Brabant that she left behind to study Grafic Design and Photography at the HKU in Utrecht. When she graduated in Photography in 2000 she moved to Amsterdam where she fell in love with painting again. Inspired by the absurdistic images she saw working in a small photographyshop she started her journey into the absurdity of reality. A strange form of intimacy that no photographer can capture; entering the worlds of other people, their familiarity, acknowledge and twist this to underline their loneliness.

Her real passion however enfolded itself when she turned 30. Cutting ties with everybody she had known she lived withdrawn in her studio. Inspired by this newfound freedom she returned to her beloved club circuit. Soon she lived in a squat, what used to be a Chinese restaurant with a rotating floor. Together with her partner she got a permit to start a nightclub: Pand 14, more commonly known as De Doorhaal-Chinees. This also was the place where she refound her power in forgetting that everything needs to become something, an almost childlike innocence. Her body of artworks consisted of cartoons drawn on cardboard on the toilets that visitors of the club could take home with them as a souvenir. Or cutting keta-chickens out of wood, or a 10 metre drawing in charcoal of 'Everything she found dirty'.

In her studio in the basement of the club she worked on a serie that was permeated of hidden moments in nightlife, dancing and the afterparty-life. Realistically as well as abstract these works were painted in oil on canvas. One of these was nominated for The Royal Price for Free Painting in 2011 and was exposed in the Dam Palace in Amsterdam.

Her club, Pand 14 got the first 24-hour permit in the city of Amsterdam, but was completely destroyed by the government to make way for a bigger parking lot for McDonald's. Heavily pregnant she packed 1200 square metres to move to another starting project in Amsterdam New West. Together with 5 partners: RADION; a new club with restaurant and exposition space. The Bovenkamer, a small room in RADION became her most beloved room and resulted in The Culture Room. She ended her series on club-life with an exposition in RADION in association with the Klauterwerck Foundation.

After leaving RADION because of the fact that working there limited her creativity by lack of time, she started a career as full time artist. This was also the start of exploring new ways of painting and expression in words in the form of poetry. The creative stability she got by working with oil on canvas was exchanged for acrylic that she uses as bedding for a quicker imaging that results in an absolute and free attitude. Seeing perfection in the imperfect. Shape reality towards the complete abstract.